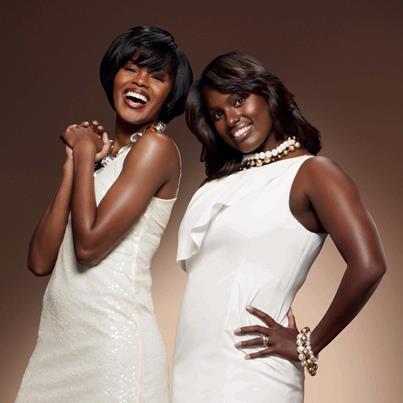 Positive Propaganda:  YES, Our Black IS Beautiful & Our Money is Long!
Well hello, Sisters (and sis-supporters)!
Have you heard (or seen)? 
Amid all of the whack and inaccurate portrayals of us in commercial advertising (neck rolling grannies, no-money having sistahs, rapping fast food eaters, etc, etc, etc), there are a few corporations that care about our needs as black women, and who take pains to ensure we're accurately represented.  *wee!*
Considering that black buying power is "projected to reach $1.1 trillion by 2015" (per The State of the African-American Consumer Report, released in Q4 of 2011), it clearly behooves corporations to pay attention to our needs and portray us more positively and accurately in their advertising.
To that end, we as black-women-consumers need to hiss loudly at those who overstep their advertising boundaries, and promote and uplift those who wish to maintain a positive relationship with us.
And since we love to highlight all-things-good on this site, It's time to give a paw-bump (that's a fist-bump, C.A.T. style) to Proctor & Gamble (P&G)!
P&G has been around since 1837, and is currently a billion-dollar brand with ownership of some of our most beloved (and quality) products, such as Tide, Always, Secret, Olay, Crest, Tampax, and CoverGirl (don't you love those "easy-breezy" adds with Queen Latifah?!).
In taking a quick view of their company's site, their mission statement includes their committment to diversity, which we at Positive Propaganda LOVE to see:
Diversity and Inclusion
"Diversity of ideas, experiences, race and gender are vital to P&G's ability to touch and improve the lives of consumers around the world. The practice of inclusion ensures that this diversity isn't merely represented, but is integral to the way we compete and win every day."
But most imporantly, P&G walks their talk, and has blown this sister C.A.T. away with the creation of "My Black is Beautiful", a movement devoted specifically to women of color, and black women, specifically!
While the campaign has been in existence since 2008, we here at the site are just now hearing about it, and want to make sure all of our sisters are in the know so we can actively support brands who support us.
Check out what P&G has to say about this awesome campaign:
"Our extraordinary initiative, My Black Is Beautiful, celebrates the diverse collective beauty of African-American women and nurtures black self-esteem. The movement encourages black women to define and promote our own beauty standard — one that is an authentic reflection of our indomitable spirit.
Recognizing that beauty and self-confidence are intrinsically linked, My Black Is Beautiful Is designed to ignite black pride and to support a sustained national conversation by, for and about black women — the way we are reflected in popular culture and how we serve as the catalyst for a movement that effects positive change."
Now THAT'S what's up! 
I knew I loved Olay, Always, Tampax, and CoverGirl for a reason!  LOL! 
Be sure to patronize brands such as those under the P&G umbrella, and become a part of the My Black is Beautiful movement:  http://www.myblackisbeautiful.com
And also, feel free to share with the C.A.T.S. community and sisters everywhere the names and brands of advertisers and corporations that are getting it right! 
Money talks, so let's love those who love us.
Happy shopping, and meow,
PositiveProp~