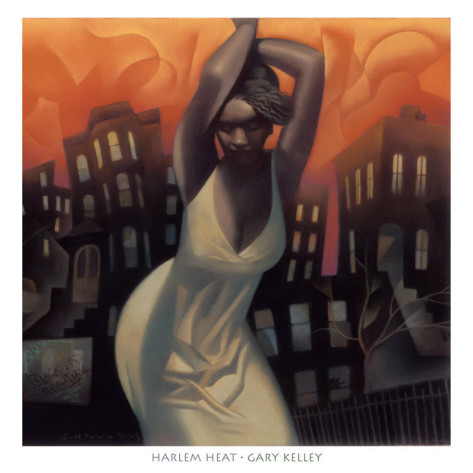 Positive Propaganda:  Black Women & Girls Self-Define
Hello Sisters,
This post is near and dear to my heart, as the subject matter is personal on several levels. 
Have you heard of the term "scapegoat"?  Please allow me to provide a brief overview:
Classically defined, a scapegoat is "a person or group made to bear the blame for others or to suffer in their place";  and "one that bears the blame for others; one that is the object of irrational hostility."  (Merriam-Webster).
In short-story form, in the days of old, villagers would take an innocent goat, parade it through the town, and project all of their sins, mis-deeds, lies, and tawdry secrets upon it. Afterward, they would ceremoniously lead the little goat into the wilderness and kill it, thereby absolving themselves of all things unclean and unlike God; the things they did not want to face about themselves.
This noun becomes a verb in the form of what's termed "scapegoating"; the act of an individual or group performing the same activities described above to another individual or group, in an effort to absolve themselves of guilt, crime, sin, or wrong-doing; forcing the blame on the innocent.
Scapegoating in society was best summed up by Martiniquan psychiatrist, philosopher, and political activist, Frantz Fanon (1925–1961).  In his 1952 book titled "Black Skins, White Masks" Fanon wrote: 
"Collective guilt is borne by what is conventionally called the scapegoat. Now the scapegoat for white society–which is based on myths of progress, civilization, liberalism, education, enlightenment, refinement–will be precisely the force that opposes the expansion and the triumph of these myths. This brutal opposing force is supplied by the Negro."
Fanon hit the proverbial nail on the head when he pointed out that black people in America bore the label of scapegoat, and still do to this day.  And as someone near and dear to me pointed out, what does a scapegoat do when mistreated and unfairly labeled?  They fight!  They rebel.  They become angry, and disgruntled…rambunctious and willful, in the attempt to shake off a label they never earned and that fits as comfortably as an itchy wool sweater in the heat of summer.
Does any of this sound familiar, dear sisters? 
It's my hypothesis that in this day and age of supreme American narcissism, racism, classicism, and sexism, the newest scapegoat is not just black people, but black WOMEN. 
Why?  Because of our perceived vulnerability.  On the outside looking in, we've no one to protect us.  Our community appears irreparably divided (like no one "has our back").  Our men appear to have abandoned us.  We're an easy target. 
It just makes sense…the myriad articles recently penned by so-called professionals and specialists describing our perceived inferiority, our unattractiveness, castigating us as the "least desirable" of society.  What's that about?!  And lately, the scapegoating tactics have become more subversive in the attempt to point a judgmental finger at black women, by presenting us in myriad forms of media as materialistic, uneducated, gold-digging, promiscuous savages, too wild and inappropriate to behave, function in, and contribute to society.  It's not just entertainment, folks – it's a full blown negative propaganda campaign.
I hear the protests now:  "but, we're signing up for these shows/music videos/rap songs" you say, and "we do it to ourselves" you cry, and last but not least "but, there ARE some mad, ratchet, crazy, angry black women out there…lots of them!" you concede, and to that, I gently advise you to refer to the story of the scapegoat.  Again, if you're constantly being told who you are not, what you cannot be, do and have, how you're the least of a group, and the most unwanted, while knowing in stark contrast that you were born of God just as anyone else, and the only thing that makes you different is the color of your skin and the texture of your hair, WOULDN'T YOU FIGHT BACK TOO?
They're LIES!  Wouldn't you be angry if you were constantly lied to since birth?  Wouldn't you be loud when out and about in a vain attempt to prove that you EXIST?  Wouldn't you make every attempt known to man to make beautiful what you're told is ugly by adorning yourself in the brightest, flashiest, most visible garb and jewelry available?  If you're told your hair is the worst ever created, wouldn't you buy it, trade it, sew it in, glue it down, fry it up, and slick it back, in an effort to fit in and be loved?  And lastly, if always on the bottom ledge of society, a few thousand dollars to episodically show off and show-out would be welcomed payment for both your pockets and your self esteem.
Yep, scapegoating, indeed (with a splash of exploitation). 
Now, since, per usual, we here at the site do not dwell on problems, but reveal them only to locate and provide solutions, we believe we've identified the way to stop this madness and redefine our roles in society, and in our own communities.
It's time to free the scapegoat!
And how, you ask? 
We free the scapegoat by defining who we are, and placing value, emphasis, and worth on all of the beautiful, amazing, attributes we've been blessed to embody.  And we don't just think it…we KNOW it, live it, walk it, talk it, and thrive as a result of our new perception of self.  We gently hammer it into our souls so deeply that nothing said or done by "them" can shake it.  We free the scapegoat.
Sisters, we have to define and re-define ourselves, for ourselves.  We cannot listen to the voices and projections of others to create our identity.  We cannot own what we've been told about ourselves if it's anything less then positive and affirming, and we cannot live our lives reacting against lies.  Living in that fashion keeps us both trapped and enslaved by the thoughts and projections of others, and that is NOT the destiny prescribed by us by our creator.
We could fill this page and a thousand others with all of the amazing attributes that black women and girls possess (and we almost did, in the previous post titled "Who We Are" – check it out!), but the whole truth is that you, as an individual, must define yourself, for yourself.  YOU must take a powerful, silent inventory of all of the great things that make you, you, and firmly own all of the glorious attributes that you know, deep in your soul, God blessed you to be, do, and have.
And then you have to LIVE them, whether in cooperation with, or in contrast to, what and who surrounds you on a daily basis.  Let this quote guide you on your new journey of freedom and self-definition:
"Be committed to creating a soul-connected reality, building a new sense of self, connected to your inner core."
Simply BE who you SAY you are!  Be tenacious.  Be unshakable.  Be demure, and graceful.  Be purposeful and loving, graceful and glamorous.  Be bold and self-assured.  Be confident and vocal. If you're a star, BE a star!  If you're fabulous, there's no need to shout it to the rooftops and hammer it into the heads of others…"they" don't matter.  Simply BE it.  You are all that you want to be, and all that God placed you here to be; you just have to reveal it to yourself and own it.  And if it helps to jump-start your self-identification process, start with knowing that in the eyes of your creator, you are simply PERFECT.  🙂
Free the scapegoat today, then after you become free, reach back and help free the minds of our other "trapped" sisters.  It's our duty. 
I'll see you in the pasture of self-identification and self-actualization, where the grass is indeed greener.  🙂
Love always,
PositiveProp~