Positive Propaganda:  Black Women Are Intuitive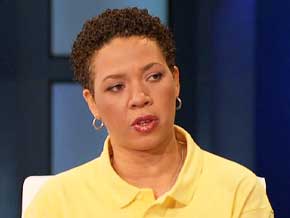 Good morning, sisters!
And it is.  🙂
A lot's been going on in black America lately with the rise of negative media images such as those seen on VH1's "Basketball Wives" (I'll post on that soon…need to spin someting positive out of that atrocity.  Pray for us, ya'll.  Pray), but as is the mission of this site, we're choosing to continue focusing on the light, bright, and right. 
Which brings us to today's timely post:  listening to, and using, our intuition.
Do you recognize the sistah at the top of this page?  She's an American hero in my book, and I'm sure in the books of many.  Her name is Lisa Campbell, the woman whose faithful use of her intuition led to the arrest of kidnapper and convicted rapist Phillip Garrido in 2009. 
Phillip and his wife heinously kidnapped young Jaycee Dugard in 1991 and held her prisoner in the backyard of their Antioch, California home for 18 years.  Jaycee was impregnated with two girls during this traumatic time.  One can only imagine the horrors Jaycee and her children had to endure while being held captive for nearly two decades.
Lisa was working as a special events coordinator with the University of California, Berkeley police department on the fateful day that Garrido walked in with two young girls in tow.  While neither Garrido nor the two girls displayed behavior in Lisa's office that was out of the norm, it was, acorrding to Lisa, the girls' "nonverbal communication" that triggered a cause for alarm. 
The next day Garrido returned with the two girls and Campbell sprung into action.  She quickly alerted office-mate and police officer, Ally Jacobs:  "This guy in my office…he's got these two young girls…something's not right."
And the rest is American history.
A feeling; a whisper.  It's routinely called intuition.  I call it our God Voice.
It's my belief that this voice resides within the souls of black women to a great degree.  We KNOW things.  We sense them.  It's our God Voice that allowed us to stay alive during times of slavery and entrapment; that sustained us during some of the worst atrocities known to man. 
Harriett Tubman's God Voice led her to strike out against captivity, and risk her life seeking freedom for both herself and hundreds of other slaves.  One white abolitonist once said of Tubman:  "She spoke of "consulting with God", and trusted that He would keep her safe. I never met with any person of any color who had more confidence in the voice of God, as spoken direct to her soul."
What if Lisa Campbell hadn't listened to her intuition that fateful day in 2009?  What if Harriett Tubman had been too afraid to trust her God Voice, and decided to stay "safe" on the plantation instead?  Sisters, our intuition is both our spiritual guide and our gift, and deserves to be routinely and strictly followed.
My intuition is amazingly strong – some might say I'm downright psychic – but I've many times more than I'd like to count not followed it out of habit, fear, laziness, or human willfulness.  And in every instance, unfortunate events occurred.
I've since learned to trust my God Voice.  I trust it now in the simplest of times:  like when a song comes on the radio denegrating women (you know the type), and my God Voice politely asks me to change the station or turn it off.  "You don't need that in your spirit" it will whisper, and where I would once continue to bob my head and cry "Look Ma, no hands!", I now take heed.  And you know what?  I feel lighter.  Lovelier.  Better about myself and my sisters.  Our God Voice loves us and wants the best for us.
In other times, my God Voice is louder; more insistent:  "Leave that man alone!" it will scream.  "Don't go there with those people!", it will say.  "Don't take that trip!" it warns me.  And I listen.  Who knows if my life has been spared, or if I've avoided something as simple as an unpleasant experience…I've learned to listen, regardless of the predicted outcome.
God knows best.
Lately I've noticed my God Voice speaking to me in another way.  It's saying:  "You're so much greater than you know" and "You can be, do, and have ANYTHING you want!" ("Ask and ye shall receive").  So many times we denigrate ourselves as black women.  We listen to popular culture that says we're "lesser than" and "unattractive."  That we'll never find a mate, or that our black men have abandoned us for good. That our role in society is to neither be seen nor heard in postive ways.
I've since decided to no longer listen that THOSE voices.  I don't know, nor do I trust, THEM.  But who I DO trust is God, and God – my creator, and to whom we will all return as the source of our lives – knows that I am beautiful and loved, wanted and appreciated, desired and deserving.  My gentle yet firm God Voice says that I AM that I AM and what I AM is a spark of genius..a piece of God itself in human form.
THAT'S who we are, sisters, and it's high time we tune out the voices of others and seek the only one that matters as we enter the next evolution of our journey. 
We have a legacy to uphold.  Let us not squander the powerful gift provided to Lisa Campbell that helped save three lives and bring evil-doers to justice on that random day in 2009.  Let us not ignore the same voice that urged our sister Harriet Tubman to reach for a reality of freedom far beyond her imagination and circumstances.  I truly believe that none of us would be here today if our courageous ancestors had not followed their God Voices to safety, in one way or another. 
How are you using your God Voice today, and every day?  Are you using it to catch your man in a lie (we're good at that!)?  How about taking that same energy and power, and asking your God Voice to lead you to a healthy realtionship with someone trustworthy and emotionally safe?  Or are you not using it at all?  Are you at a place in your life where you've been so beaten down and discouraged by others and difficult circumstances that  you've completely shut down and turned off your God Voice?  If so, know that it will never leave you and is simply waiting for your attention and obedience.  God is faithful, and will never leave you in life's wilderness.  Ask God to reveal your next steps through your own personal intuition…your individual, unique God Voice…and then take action on the guidance you receive.
Who knows…the life you save, emotionally, physically, spiritually, or mentally, could be your own. 
Or heck, mine, 'cause as sisters you've got my back, right?  😉
With love,
PositiveProp
meow~